Dental Implants — Toronto, Ontario
Rebuild Missing Teeth from the Roots Up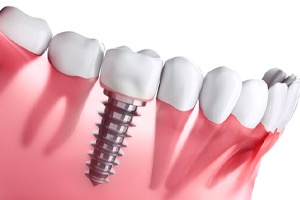 More than 42% of people above the age of 65 are missing all of their teeth in one or both jaws. Most of these teeth were lost to gum disease. Research shows that 85% of the estimated 32 million people with dentures in the US and Canada experience pain, embarrassment and difficulty with their false teeth. Now patients who have lost more than one tooth in a row may have a better choice than a fixed bridge, removable partial or full denture.
Why Choose Dr. Kevin Dann of Dentistry Asleep For Dental Implants?
#1 Dental Implant Treatment Completed by Highly Experienced Dentist & Team
#2 Certified Specialist in Dental Anaethesia for Comfortable Treatment
#3 Permanently Replace Any Number of Missing Teeth
What Are Dental Implants?
Dental implants are metal cylinders - usually made of titanium- that are roughly the size and form of the roots of a tooth. Titanium has a long history being well accepted by the body in such things as artificial hip and knee replacements. When used for dental implants, the jawbone accepts the new roots and integrates them into the existing bone tissue, making the implant a strong anchor and supportive root. On top of the implant and above the gums will be placed a custom-made replacement tooth or teeth, depending on the extent of your tooth loss. One implant can support a crown or small bridge, while two or more can hold a longer bridge, partial, or full denture. The end result is a set of teeth that look, feel, and function just like natural.
Dental Implant History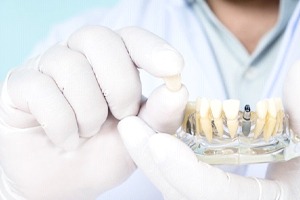 Although implantation of artificial or replacement roots has been attempted for hundreds of years, only recently have techniques been worked out that makes them predictably successful. Modern dental implant techniques and technologies originated in Sweden in the early 1960's. After scientifically proving that these new bone-integrating titanium implants were successful, Swedish researchers brought their methods to a few select centres in North America in 1981.
Toronto was one of these original, chosen study centres. Dr. Dann was fortunate to be one of the few dentists selected to work with dental implant patients in the early 1980's. This unique experience gives him a longer history than most in this field and an opportunity to see and experience many changes and advancement in the field of implant dentistry.
The Dental Implant Process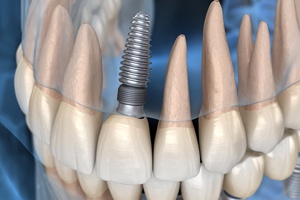 In order to properly assess your tooth replacement needs, Dr. Dan will need to collect special CAT scans, and X-ray images of your jawbone to determine its size and shape. Accurate models of your mouth and photographs are also needed to plan this type of complex treatment. Once you've been cleared as a good candidate for implants, we can move onto your dental implant surgery.
The dental implant or implants are first placed into the jawbone with a procedure that's similar to tooth extraction but in reverse. The surgical appointment for placing implants into the jawbone and under the gum usually takes between 1 to 3 hours depending on the number of implants and their location in the mouth. Many people choose to be asleep for this appointment.
Then, a healing cap is placed on top of the implant to encourage the gum tissues to heal and form a natural gingival contour. The implant is allowed to remain undisturbed for three to six months. This period of time is required to have bone integrate to the implant surface making it a part of the body, not just a foreign object. After your bone has healed into the implant for about 3-6 weeks, you'll return for the final phase of treatment and have your custom restoration attached to the implant.
Who Dental Implants Can Help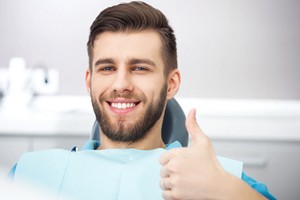 If you are in good health and your tooth loss is recent, you are likely a good candidate for dental implants. The only way to find out for sure is to schedule an appointment with your implant dentist. When you do, we will take x-rays and a special scan to determine precisely if you are eligible for this excellent replacement option. If you are, we will look forward to getting started on your unique treatment plan right away!
Understanding the Cost of Dental Implants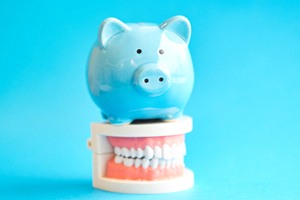 There is no flat fee for dental implant procedures, so the cost of yours may vary from what your friend or relative paid for theirs. The final price will depend on several factors, including how many teeth you are missing, where in the jaw they are located, and what type of implant restoration you need. Dental insurance can help to cover some (but not all) of the cost, and patient financing is also available to help you pay off the bill at the pace that suits your budget best. Whatever the price, dental implants are worth their weight in gold -- and then some.
Advanced Dental Implant Procedures
Even if you've been told in the past that you don't have enough jawbone, there are now advanced techniques like bone grafting and sinus lifts to increase bone width or height to allow placement and support of implants. Today, most obstacles that previously prevented implants from being used can be overcome with advanced dental implant procedures.
Featured Article on Dental Implants – View all

Dental Implants – Your Third Set of Teeth
A discovery fifty years ago paved the way for one of dentistry's most exciting, natural looking and successful tooth replacement systems. Learn how dental implants might just possibly change your life... Read Article
At Dentistry Asleep®,Dr. Kevin Dann offers dental hygiene services, routine dental care for adults and children, periodontal and endodontic therapy, cosmetic dental procedures and dental implants. Dr. Dann is one of the few Certified Specialists in Dental Anaesthesia, giving complete, comfortable care to all his valued patients. Enjoy experienced, anxiety-free dental healthcare! Make your appointment now!