Flouride
The connection between fluoride and dental health began to be seriously explored in the early 20th century. By the 1950s, communities across North America had begun fluoridating their water supplies. Community water fluoridation is an important public health policy that is adopted in municipalities throughout the province. It is a cost-effective preventive strategy that provides protective measures to Ontarians.
Fluoride protection against cavities works in two ways: systemically because of its incorporation into the developing teeth before they erupt into the mouth (so-called systemic effect) and topically (on the tooth surface).
Fluoridated drinking water works both ways systemically and topically on tooth surfaces. In the mouth it creates low levels of fluoride in saliva, which reduces the rate at which tooth enamel demineralizes and increases the rate at which it remineralizes in the early stages of cavities.
Fluoridated tooth paste and professionally applied fluoride varnishes work.
A 1994 World Health Organizationexpert committee suggested a level of fluoride from 0.5 to 1.0 mg/L (milligrams per litre), depending on climate. Bottledtypically has unknown fluoride levels, and some domestic water filtersremove some or all fluoride.
Fluoride & Mineral Content of Municipal Water
Parts Per

Million

Fluoride

Chlorine

Lead

Sulfur

Sodium

Potassium

Magnesium

Calcium

Toronto

0.94

24.27

5.05

31.38

10.89

1.43

9.31

39.34

Montreal

0.10

20.44

5.52

24.42

9.57

1.46

8.63

34.85

Winnipeg

0.66

5.38

0.15

4.30

2.84

1.54

7.94

26.51

Vancouver

0.00

1.33

0.49

0.97

2.77

0.16

0.14

0.97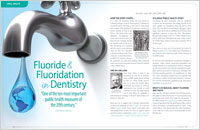 Fluoride and Fluoridation in Dentistry
The Center for Disease Control says that water fluoridation is, "One of the ten most important public health measures of the 20th century." Extensive systematic reviews of the evidence conclusively show that water fluoridation and fluoride toothpastes both substantially reduce dental decay. Learn why through the amazing fluoride story... Read Article