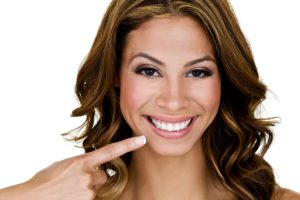 Coffee, red wine and hot tea — some of life's simplest pleasures are also real teeth stainers. And we hate to say it, but nothing shows your age like a dark smile. If discolored or dingy teeth are getting in the way of your otherwise youthful appearance, you should take the time to learn about your options with teeth whitening here in Toronto. Dr. Kevin Dann and the whole team at Dentistry Asleep have a big secret they'll let you in on this holiday season…
Toronto Teeth Whitening Erases Years From a Dingy Smile
Have you ever seen someone smile and wonder what their youthful trick is? Well, it's sure not magic — it's probably professional teeth whitening. One of the most popular treatments in cosmetic dentistry, teeth whitening can give you the dramatic results you want in just about two weeks. It's a hassle free, affordable option for anyone who could benefit from a brighter, more dazzling smile.
But with all this talk about at-home teeth whitening, we know you're probably thinking one thing:
Isn't an over-the-counter whitening option just as good?
Yes, it's tempting to opt for the quicker pharmacy whitening options. But as your trusted dental team in Toronto, Dr. Dann and everyone else wants to remind you to trust your teeth to the professionals who know what's best. Teeth whitening is a perfectly safe treatment, but it's always best to have it done under the eye of someone who really knows about teeth. Additionally, over-the-counter whitening options just aren't as strong as what you can get from a professional. And when you're paying money for a more dazzling smile, we know you want incredible results. That's just what you get with professional teeth whitening from Dr. Dann.
How At-Home Teeth Whitening in Toronto Works
Once you decide that a professional, at-home whitening system is the perfect solution for you, we'll discuss your smile goals and desires with teeth whitening before beginning your treatment. Then, we'll create a custom-fit mouth tray that fits tightly over your teeth and send you on your way with a special bleaching gel — and you can begin the nightly treatment from the comfort of your home.
Book Your Consultation For Big Improvements in 2016 Today
With the new year drawing closer, we have just one questions: could Toronto teeth whitening give your smile the rejuvenation it so desperately needs? If so, please don't wait to contact Dr. Dann's office — we'd love to discuss how a professional, at-home teeth whitening treatment can help you make 2016 the best year yet. Click here to book your consultation today.