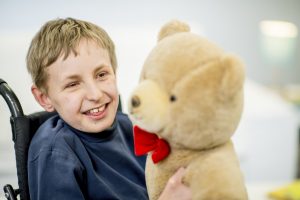 If someone you love has special needs, downtown Toronto special needs dentist Dr. Kevin Dann is uniquely qualified to provide them with the care they need. As a trained dental anesthesiologist, he is able to provide a milder alternative to in-hospital general anesthesia. Very often special needs patients—people who are physically or intellectually challenged, behaviorally impaired or medically compromised—require anesthesia in order to have even routine dental treatment. With his training and experience in sedation dentistry, Dr. Dann helps special needs patients have the dental work they need for proper oral health.
Lighter General Anesthesia
At Dentistry Asleep, Dr. Dann and his caring team use a milder form of traditional hospital based general anesthesia. So, although the patient is asleep, the anesthesia is less stressful on the body.
Under anesthesia, a special needs patient can have several needed dental procedures completed during one appointment. A dental cleaning and exam can be expanded to include any necessary restorative dentistry, such as tooth-colored fillings, dental crowns or root canal therapy.
Nitrous Oxide and Oral Conscious Sedation
Of course, general anesthesia of any kind is delivered intravenously. For some special needs patients, starting an IV is simply not possible. For these patients, Dr. Dann can use either nitrous oxide (laughing gas) in the office to help them relax once they arrive, or he can prescribe an oral sedative to take orally at home before they are driven to our office.
Nitrous oxide is a colorless, odorless and tasteless gas that is inhaled through a nose mask. After a few inhalations, the body relaxes and fears melt away, so the IV can be started.
Other special needs patients may need comfort and relaxation in order to be transported to the office of downtown Toronto dentist Dr. Dann. In this case, there is oral conscious sedation. A patient simply swallows a small sedative pill. After a short while, the effects of this medication calms nerves, so parents or a caregiver can drive the patient to our office.
Call your Downtown Toronto Special Needs Dentist Today
If you need assistance providing dental health care for a special needs person, then contact Dentistry Asleep. Dr. Dann and his team of compassionate dental hygienists and dental assistants are experienced in providing safe and effective general anesthesia, so you can be confident your loved one will receive the dentistry procedures they need.