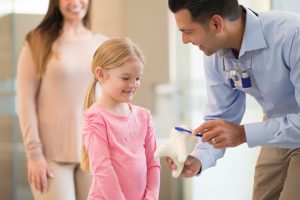 Have you been asking yourself, where is a great dentist near me in Toronto? Look no further. Dr. Kevin Dann is your one-stop family dentist in Toronto. Dr. Dann offers complete dental care for each member in your family under one roof. Now, your entire family will benefit from one amazing dentist. Over the years, your family's dental needs will change. Dr. Dann can accommodate those needs and changes by providing the exact comprehensive dental care your family needs through all stages of life.

Preventive Dentistry
The foundation to healthy smiles that last a lifetime involves the preventive care you receive. In addition to your family's home oral hygiene, everyone will need to visit the dentist twice a year for regular checkups and cleanings. Dr. Dann provides family-friendly preventive care to patients of all ages. He will thoroughly clean the teeth while performing in-depth examinations to promote oral health. He even offers preventive treatments, like dental sealants and fluoride treatments to protect your family's smile from damage.
Children's Dentistry
As a family dentist, Dr. Dann understands that dental care is a little bit different when it involves children. Children have unique needs and different comfort levels. Dr. Dann caters to the unique needs of children to ensure the proper development and health of their teeth. With a caring and personalized touch, he is able to make all children relax and feel comfortable as they learn to trust their family dentist. By doing so, they will come to make their oral health a priority as they age for lifelong, healthy smiles.
Restorative Dentistry
There will come a time when your family needs restorative dentistry. Dr. Dann provides complete restorative services to repair any damage that may occur. Using the best advancements in dentistry, he restores the health and function of the teeth to ensure they last a lifetime.
Cosmetic Dentistry
Your family deserves to have flawless smiles, which is why Dr. Dann offers cosmetic dentistry. Not everyone is born with a flawless smile. Not to mention, as you age, the appearance of your smile will begin to change. With cosmetic dentistry, Dr. Dann works to ensure your smile stays looking its very best so your family can smile confidently with an attractive smile.
Sedation Dentistry
Not everyone enjoys the dentist. Many are fearful so they avoid the dentist altogether. Dr. Dann is a certified specialist in dental anesthesia to provide sedation dentistry. As a result, he can cater treatments to those who are fearful or have to undergo invasive treatments. With the use of sedation, your family will be relaxed and comfortable while under Dr. Mann's care.
Your One-Stop Dentist
When raising a family, your life is busy enough. You do not have the time to run to different dental offices for each member of your family. Choose a caring and trusted dentist who will treat your family as his own with Dr. Dann. He is your one-stop dentist for complete family dentistry to care for each generation in your family.