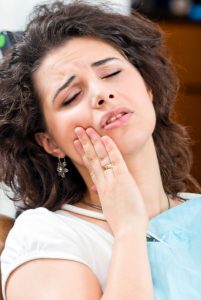 You're enjoying a game of baseball with your neighborhood team when you go to make the big catch! A beautiful day out in the field playing your favorite game quickly takes a turn for the worst when you're hit in the face with the ball. Even worse, is when you look over to see your tooth on the ground. This feels like a time to panic, but remember – your trusted dentist in M5R3K4 handles dental emergencies in Toronto.
What Should I do first?
Dental emergencies are scary, but the first thing to remember is not to panic. Next, give Dr. Kevin Dann a call. When you have a dental team that you can trust on your side, you can rest assured that things will be all right. Understanding how to handle certain emergencies may also help to feel less overwhelming, so here are some things you can keep in mind if and when the time comes.
A Tooth that's Been Knocked Out
When your tooth is knocked out, it's important to act quickly. Dr. Dann has the best chance of preserving your tooth if he can treat within the first hour of the injury. Try your best not to handle the tooth too much. Place it back in its socket if possible, or transport it in a cup of milk to keep the cells moist and alive. Contact our office immediately.
Soft Tissue Injuries
Injuries to your gums, cheeks, and lips tend to bleed a lot; so containing that bleeding is your first order of business. Do this with a cold compress and light pressure to the wound. When you've stopped the bleeding, call our office for further instruction.
A Broken or Chipped Tooth
Chips or fractures to your teeth, whether large or small should also be treated right away. Even the smallest break can become irritating to your soft tissues, so be sure to call us even if you think your chip is small. Bring larger broken pieces to our office so Dr. Dann and his team can determine the best treatment for your tooth.
Dental Pain or Infection
A tooth that is aching or causing you pain may be indicating an infection. This is also a time to be proactive and call us right away, as an infection won't go away without treatment. In fact, if left untreated, dental infections can spread to other areas of your body, and even lead to tooth loss. Root canal therapy may be able to preserve your tooth if you act quickly.
Contact Dr. Dann
We understand how critical dental emergencies are, and we make every effort to see patients in a timely manner, and same day if possible. Please don't hesitate to call your emergency dentist in M5R3K4 should you need us.