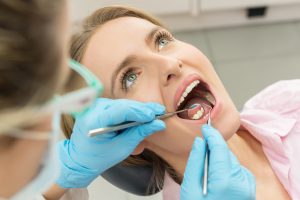 There's an old saying that goes, "A team is only as strong as its weakest link." This statement is usually true. It's even relatable in dentistry. Essentially, your teeth and gums work together as individual members of our mouth's team to create a strong, stable smile. Why risk the stability of one of the most important teams in your body? If you ignore necessary treatment for a fragile tooth, you're leaving your smile vulnerable to fractures, the spread of infection, or even tooth loss. Dental crowns in M5R 3K4 are offered by Dr. Dann to keep our patient's smiles stable and durable.
What is a dental crown?
Dr. Dann offers a great restoration option for patients interested in restoring the functionality in their smile. Dental crowns are designed to completely cover or "cap" an individual tooth. Crowns can also be attached to dental implants to create a lifelike tooth replacement. This process significantly improves the tooth's health, appearance, and position within the smile. Most crowns are now made of either porcelain or ceramic, both of which can be precisely matched to the color of your natural teeth. There are several reasons Dr. Dann may recommend having a crown placed, including:
Restoring a large area of decay that's too severe for a filling
Rebuilding the structure of a badly injured or fractured tooth
Protecting a weak tooth from the threat of fracture
Giving an extremely discolored tooth a beautiful makeover
Restoring a tooth that's undergone root canal therapy
Attaching it to a dental implant
What is the process of getting a new dental crown?
The procedure for installing a dental crown normally takes two separate office visits. Dr. Dann makes sure the procedure you're planning to undergo is necessary and able to take place in a timely manner.
At your first appointment, we will make sure your tooth can support a crown, then begin filing it down to prepare for the crown's placement. Alternatively, if the tooth is severely damaged or broken, your dentist may need to fill it in to make it large enough to receive the crown. After the tooth is filed or filled to the proper shape, your practitioner will take an impression of the tooth and send that information to a dental lab. The lab will then create the permanent crown. By the end of this first visit, your tooth will have a temporary crown that protects you from further discomfort until the final crown is permanently placed.
At your second appointment, the temporary crown is removed. Dr. Dann will position and fasten the new, permanent crown to the tooth with a special adhesive. You will then be reminded how refreshing it is to have a fully functional smile!
Am I a good candidate for dental crowns?
When you choose Dr. Dann and his team at Dentistry Asleep to place your dental crown, you can not only count on a crown that will look beautiful and function like a natural tooth, but also a procedure that is free of anxiety and all discomfort. As a Certified Specialist in Dental Anesthesia, Dr. Dann offers a range of sedation techniques that can help mild anxiety to severe dental phobia. Realistically, anyone experiencing difficulties from a fragile tooth is a good candidate for undergoing a dental crown procedure.
Once your restoration is placed, it should last anywhere from five years to twenty-five years, giving our patients long-lasting, stable results! Do you think getting a dental crown could improve your oral health? Contact our Dentistry Asleep practice to get more information or schedule an appointment!