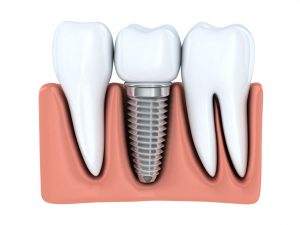 Although you hate to admit it, your teeth don't give you a reason to smile. You've got some noticeable blank spots in your grin, and you're finally ready to replace your missing teeth. You're checking out your options for artificial restorations, and have questions dental implants in M5R 3K4. Luckily for you, the team at Dentistry Asleep have the expertise you need. In this post, Dr. Kevin Dann teaches you all the other reasons why this prosthetic option is great for your smile, aside from your looks.
What Are Dental Implants?
To give you a more in depth explanation of what dental implants are, Dr. Dann informs patients that these are made of three pieces:
Implant Post – The implant itself is the titanium post that will be surgically placed in your jaw.
Abutment – After the post has healed and fused with your jaw, the connecting piece (called the abutment) will be added to link the post to the tooth-shaped cap.
Dental Crown – This life-like, durable porcelain dental crown will look and function just like your natural teeth.
Why Are Dental Implants Superior To Other Options?
As your premier dentist in M5R 3K4, Dr. Dann knows there are many reasons that dental implants win over the competition when it comes to artificial teeth. Aside from looking great, there are many functional and practical reasons these are the best way to fill in the gaps in your smile, including:
Longevity – Since dental implants can last indefinitely with proper care, you'll save money in the long run with this upgrade.
Jaw Strength – Dental implants have the unique advantage of making your jaw stronger – other options like dentures can actually cause erosion of the jaw structure, but our implants can make sure your natural bone stays intact.
Proper Speech – Since implants stay in place, you'll never have to worry about shifting dentures that make it hard to talk.
Easier Chewing – Since dental implants take no time to get adjusted to and feel just like your natural teeth, eating all of your favorite foods is easy – you can even enjoy corn on the cob and caramels.
Stress Free Solution – Removing your smile and putting it in a cup at night can be embarrassing, but with this prosthetic option, the only person who'll know you've had dental work is you.
Now that you know why dental implants are the better solution when compared to other artificial teeth, schedule your appointment with Dentistry Asleep to restore your smile to its former glory!