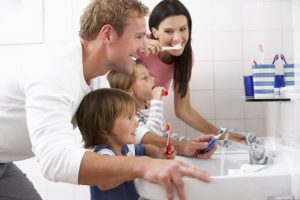 You might be brushing your teeth just like your dentist in M5R 3K4 has told you to do, but are you doing it right? The truth is that although most people try to stay on track with brushing their teeth as directed by their dental professionals, they are hardly removing the plaque and bacteria in the mouth as they should. This comes from poor brushing habits and an inconsistent brushing schedule.
Don't worry though—we've got you covered. In this week's blog post, we're going to explore the best brushing advice so that you can optimize your oral health.
The Proper Steps to Care for Your Teeth
If you don't brush your teeth twice a day, you need to change your dental hygiene routine. Your smile should be cleaned once in the morning and once in the night just like this—and pay special attention to how your teeth should be properly brushed!
Brush your teeth: Choose a soft-bristled toothbrush for effective brushing. Utilize a timer to make sure that you're brushing for at least two minutes, reaching all areas of the smile. Don't forget to scrub away bacteria on the tongue!
Floss: Flossing is just as important as brushing your teeth. This removes leftover food and plaque from between teeth and along the gum line.
Rinse: It's not a requirement, but you should always rinse your mouth after brushing and flossing your teeth.
Why Is It Important to Brush Your Teeth Properly?
When you brush your teeth, you get so much more than that fresh, minty feeling when finished. Proper brushing and flossing help to keep the smile clean, breath fresh, and ward off many dental problems in the future.
It's easy to underestimate what proper oral hygiene does for you because dental problems usually develop overtime. However, removing plaque from the smile before it turns into tartar works to prevent decay, gum disease, and even dental damage from weakened teeth.
Don't forget that your dentist plays apart in prevention as well. When you visit your dentist every 6 months for effective preventive dental care, like dental cleanings and exams, your dentist will remove plaque and tartar as well. Plus, they will evaluate your current oral health and even give you helpful advice on how to improve brushing habits at home.
If you ever need assistance or quick advice, give your local dentist a call!
---
About Our Office
Here at Dentistry Asleep with Dr. Dann, we assume that each of our patients want a healthy, natural smile for years to come. Our goal is to help you keep your teeth for a lifetime! Let us help you improve your oral health here in our office and at home by scheduling your next visit with us.