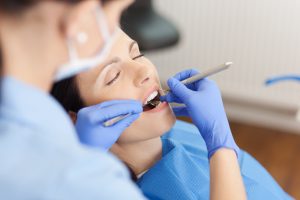 When was the last time you had an appointment with your dentist? You should have dental checkups at least twice a year, which means the correct answer to that question is sometime within the last six months. However, if you can't remember the last time you saw the dentist, then perhaps the problems isn't your busy schedule, but that you're a bit nervous about dental visits. If that's true, then consider sedation dentistry in M5R 3K4. Yes, there is an additional cost involved, but it is well worth the investment in your dental, oral and even general health.
What is Sedation Dentistry?
As the name suggest, sedation dentistry uses sedative medication to help anxious and fearful patients relax so they can have the dental care they need. A dental anesthesiologist is specially trained to provide fewer medications at lower dosages, making sleep dentistry in M5R 3K4 a milder alternative to the general anesthesia used in a hospital setting.
You receive just enough sedation to keep you comfortable during treatment, so your recovery is easier and quicker.
How Much Does Sedation Dentistry Cost?
Your out-of-pocket cost for sedation dentistry will depend on your dental insurance coverage. Generally speaking, however, sleep dentistry runs between $500 and $800 per hour.
But keep this in mind: when you are sedated, your dentist in M5R 3K4 may be able to complete several different procedure in a single visit, thereby saving you the time and expense of multiple dental appointment.
Is Sedation Dentistry in M5R 3K4 Safe?
While you're receiving IV sedation, your vital signs are carefully monitored. Heart rate, blood pressure, pulse and oxygen level are all watched throughout your procedure. Nothing is more important than your health and safety.
Because the sedative medication is administered through a vein, the affects are felt in just a matter of seconds. At the end of your appointment, you can relax until you feel that you're able to walk.
After having sedation dentistry, you will not be permitted to drive. You must arrange for an adult relative or friend to take you home. Returning to work or school is not recommended until at least the day after treatment with IV sedation.
If you'd like to know more about sedation dentistry for you or a family member, please contact the office.
About Our Office
Here at Dentistry Asleep with Dr. Kevin Dann, we know that there are a million reasons to avoid visiting the dentist—but we don't want anxiety to be one of them. That's why we offer a range of sedation services! Contact us today to learn about which one may be right for you.