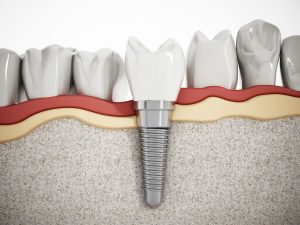 Missing teeth is one of the hardest problems to deal with in life, not just when it comes to dental care. It affects your confidence, your overall health, and your aesthetics. That's why researching your options for tooth replacement is so important. Sometimes, dental implants in M5R 3K4 are the best restoration for patients while dentures can be better from others. Learn more about these options and who is best for each of them in this week's blog post.
Choosing Your Tooth Replacement Shouldn't Be Difficult
There are all too many patients who avoid replacing their missing teeth because they may get confused when trying to pick your perfect tooth replacement. If you're considering dentures, there are a few different types to explore. We're here to make your research a bit easier!
Partial dentures are best for patients who have some of their natural teeth still in place. The dentures are custom made for you to fit exactly where you've lost your teeth. Full dentures are made for patients who have lost a full row of teeth. Finally, your dentist can actually use dental implants to replace teeth as well—even combining them with dentures for an implant-retained prosthetic.
Are You the Right Patient for Implant Retained Dentures?
If you're interested in this permanent replacement solution, dental implants can be one of the best ways to accomplish that goal. This is especially true when your dentist uses implants to support and stabilize your dentures. You might just be the perfect candidate for dental implants or implant-retained dentures if:
You strongly desire to have better oral health.
You have good jaw bone density and structure of the jaw.
You don't smoke or you're willing to quit smoke.
You're committed to maintaining your oral health and new prosthetic.
One great thing about visiting a dentist here at Dentistry Asleep is that your dentist Dr. Dann is familiar with general anesthesia to make your dental procedure a breeze. You'll most likely be put to sleep to have your implants installed within the jaw.
There are many benefits that come with exploring your tooth replacement options. Your dentist is here to help you choose your best restoration depending on your level of tooth loss. If you want to discuss developing a dental treatment plan, feel free to contact your local dentist to get started!
---
About Our Office
Here at Dentistry Asleep, we work to help patients maintain great oral health every step of the way. This means that if you experience even tooth loss, we're here to help you restore your smile to its optimal health! Learn more about how we can assist with a variety of dental restoration options by giving our local office a quick phone call.