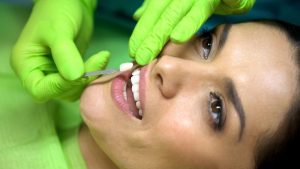 It can be hard going through life afraid to show your smile. With everyone taking pictures and posting them to social media, you're bound to be in a few photos. We're guessing a lot of those photos include you smiling with your mouth closed, right? It doesn't have to be that way anymore! Find out why porcelain veneers may be the ideal solution for you.
The Perfect Cover: Porcelain Veneers
We all know how paint works. Oftentimes, we use it to cover something we don't want others to see. A porcelain veneer works much in the same way; however, it's not painted on. Instead, these tooth-colored, wafer-thin shells fit over your natural tooth by adhesive bonding, hiding any impurities or imperfections. Not only do they hide what you don't want to show, but they're durable and resist stains! It really can't get much better than that.
Depending on your dentist, receiving porcelain treatments are quick and easy, usually taking only two appointments to have them put into place.
Hiding Impurities
Talking to your dentist is the first step to determining which cosmetic solution is right for you. However, porcelain veneers can treat a wide array of cosmetic issues. These include:
Tooth Discoloration from dark-colored beverages (soda, coffee), having a root canal, smoking, other dental treatments
Chipped or broken teeth
Misaligned or uneven teeth
Gaps between teeth
Teeth that have experienced a lot of wear
Determining Candidacy: Are They Right for You?
Unfortunately, not everyone is the ideal candidate for porcelain veneers. If your dentist believes the state of your oral health is not suitable, he or she may suggest another cosmetic option. To better understand why your dentist might not recommend porcelain veneers, it may be because:
You clench or grind your teeth
You want a cheaper option
You may decide to remove them in the future (this procedure isn't reversible)
You lack adequate enamel or have decayed teeth
Making Them Last
Should you and your doctor decide that porcelain veneers are right for your oral cosmetic needs, you can expect them to last, on average, 10 years! You must commit to the following:
Maintaining good oral health. In order to make them last as long as possible, you'll need to brush and floss your teeth regularly.
Visiting the dentist for your regular checkups. Don't skip out on your six-month appointments. Your dentist will want to make sure you're taking care of your veneers and that they're in good shape.
Avoid using your teeth as tools. Instead of tearing open that bag with your teeth, use scissors. If you're not careful, you could easily chip a veneer.
Wear a mouthguard. If you're active in sports our outdoor activities, it is wise to wear a mouthguard to protect your veneers. It is also a good idea to wear a nightguard if you clench your teeth.
Porcelain veneers can give you a smile you're proud to show. So, why wait any longer? Talk to your dentist about your options, and see if this cosmetic solution is right for you.
About the Practice
Dr. Kevin Dann received a Bachelor of Science from the University of Western Ontario before attending the University of Toronto and earning a Doctor of Dental Surgery in 1978. He has a wide array of certifications and special recognitions in the field of dentistry, and he spends 25 percent of his time teaching undergraduate and graduate-level programs at the University of Toronto.
Dr. Dann and his team believe comfort, convenience, and peace of mind are essential contributors to good oral health. If you are looking to improve your smile but are unsure of your options, contact us at +1 (647) 559-3176.