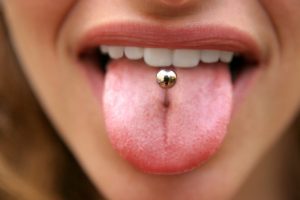 Tongue piercings might be a way to look cool, but the damage they can cause to your mouth is anything but cool. Research has proven that as this trend has grown in recent years, so have oral injuries as a result of the piercing. It has caused problems like chipped teeth and receding gums. How else can tongue piercings hurt your mouth? Is there a way to make your piercings safer? A restorative dentist answers these questions.
What are Tongue Piercings?
Tongue piercings are any piece of jewelry, typically metal, placed on the tongue. The most common type is called a barbell. It consists of a stem that goes through the tongue, with screw caps on both ends to hold it in place. The damaged caused by this piercing depends on the length of the barbell.
How Can Tongue Piercings Damage My Mouth?
A study has shown that short barbells (less than 5/8 of an inch) are more likely to cause tooth chipping because they are easier to place between the teeth. People with tongue piercings tend to frequently bite the bell. On the other hand, barbells with long stems can more easily reach the gums and rub up against them, causing irritation.
Other harmful side effects of tongue piercings can include:
Piercing breaking off and resulting in choking
Swollen tongue, leading to difficulty in speaking, chewing, or swallowing
Making you drool
Allergic reaction to the metal in the piercing
Making it harder for a dentist to take an X-ray
Increased risk of oral infection
These damages, especially tooth chipping, can require restorative dental procedures. To protect teeth from further damage, you may need dental crowns to be placed over them. Since you have an increased chance of infection, the inner part of your tooth, called the pulp, could get infected. This can necessitate a root canal, a serious procedure in which your dentist removes the infected pulp from the inside of the tooth.
How Can I Avoid Harmful Side Effects?
With any piercing, there are always risks. However, there are a few things you can do to make the process a little safer, such as:
Consult your restorative dentist before even getting the piercing to determine if you would be at a significant health risk.
Don't share saliva with anyone (including kissing or sharing food and drinks) during the healing process, as this can increase your risk of infection.
After you have healed, take the jewelry out every night and brush it like you would your teeth.
Remove the piercing before you go to sleep or do anything active, to lower the chance of the metal breaking off and choking you.
Tongue piercings might look cool when you're young, but they can lead to tooth damage that will certainly not be attractive when you're older. When in doubt, talk to your dentist if you're considering getting your tongue pierced.
About the Author
Dr. Kevin Dann believes that patient comfort, convenience, and peace of mind are essential to great dental care. That's why at his Toronto practice, Dentistry Asleep, he offers choices from mild sedation to complete sleep during all of his dental procedures. If you experience tooth or gum damage due to tongue piercings, you can count on Dr. Dann to make sure you are comfortable during the restorative treatment. To learn more, click here or call (647)-559-3176.