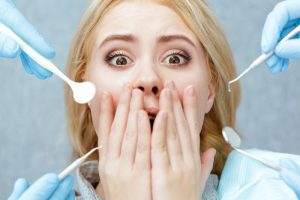 When you walk into the office for your semi-annual checkup and cleaning with your dentist, the first thing you notice is the smell of the sterile air and it freaks you out. Ever since you were a child, you've had a fear of someone fishing around your mouth with metal tools. If you have dental anxiety, you're not alone. In fact, it is estimated that about 40 million people in North America experience the same thing. Keeping up with your oral health is a necessity, and you don't want your fear putting your mouth in jeopardy. Read on for 4 tips to help manage your fear.
Focus On Slow And Steady Breaths
If you're nervous and filled with anxiety when you enter your dentist's office, you may be holding your breath and not even notice you are. This decreases your oxygen levels in your blood and can cause you to panic even more. Or, it could have the opposite effect and cause your breaths to become rapid and shallow. This can also cause uncomfortable symptoms like dizziness and numbness. By maintaining a slow and steady breathing pattern, you can reverse these symptoms and may even find yourself relaxed and calm. This will help reduce your blood pressure and muscle tension and slow your heart rate.
Choose An Appointment Time When You're Not Rushed
If you try to squeeze a routine checkup and cleaning into your lunch break, this can increase your anxiety and cause you to feel rushed. Before you even walk into the office, your heart rate and blood pressure may have raised because you were hurrying to get there on time. Instead, choose a time where you won't feel hurried or pressured. If you work during the week, a Saturday morning appointment may work best for you.
Search For A Dentist With Good Reviews
Searching for a dentist involves a lot of work, but when you find the right one you can trust, it'll be well worth it. Having a professional you're comfortable with can do wonders when it comes to easing your anxiety and fear because you'll trust them. A great way to start this search is by asking friends and family for recommendations and reading reviews for your local dentists.
Choose A Dentist That Offers Sedation Dentistry
While you're researching local dentists to visit, see if they offer sedation dentistry to help calm your nerves. Depending on the treatment you're receiving, they may be able to offer you multiple options. This way, you can keep on top of your oral health while remaining calm and comfortable in the dentist's chair. If you believe this can help you, contact your dentist to speak about any concerns or questions you may have.
Taking proper care of your oral health can ensure that you have a great smile for years to come. Don't let dental fear and anxiety get in the way of that when it doesn't have to! Speak to your dentist about whether they can help you feel comfortable so you can get the treatment you need.
About the Author
Dr. Kevin Dann knows how important it is to take care of your mouth, but he also understands that patients often avoid seeing their dentist because they're uncomfortable and scared. That's why he achieved his certificate in Dental Anaesthesia from the Royal College of Dental Surgeons of Ontario. He wants each of his patients to feel confident in their oral health while feeling relaxed and comfortable in his care. For questions or to schedule an appointment, visit his website or contact 647-559-3176.