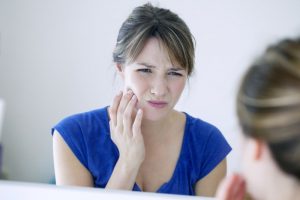 Anyone who has had their wisdom teeth come in knows how painful it can be. Ideally, you should schedule an appointment to have them removed as soon as they start causing you pain. However, that's not always possible. Some of us may be too busy or can't afford dental surgery. If you cannot make an appointment immediately, here are 9 home remedies to relieve wisdom tooth pain.
1. Numbing Gel
If you can't see your dentist about your wisdom teeth, the next best thing is to buy dental numbing gel. This gel is often available over the counter and contains benzocaine, a local anesthetic. Simply apply the gel to the affected area throughout the day as needed. However, pay careful attention to the instructions on the product to avoid any potential complications.
2. Ice Pack
Holding ice to your jaw can not only reduce inflammation, but it can also have a numbing effect. Hold the ice pack for 15 minutes, then take a 15 minutes break. Repeat as needed.
3. Saltwater Rinse
Saltwater naturally acts as a disinfectant. Stir 2 tablespoons of salt into an 8-ounce glass of water until it's completely dissolved. Rinse for as long as you can stand the taste, then spit it out. Repeat two or three times a day until the pain fades.
4. Rubbing Clove Oil on the Gums
Clove oil is a natural anesthetic that can be found at the drugstore. Place a few drops of clove oil on a cotton ball. Put the cotton ball on the wisdom tooth that's causing pain. Hold it there until the pain starts to subside, then remove it.
5. Chewing an Onion
This remedy is understandably not popular, but onions have been proven to have anti-inflammatory and antimicrobial properties. Just cut off a piece of an onion and chew it on the side of the mouth with the pain. Keep chewing for a few minutes, and the pain should be gone.
6. Chewing on Tea Bags
Like onions, tannins found in tea have been shown to reduce inflammation and fight against bacterial infection. Make a cup of tea and then put it in the fridge until it's cold. Place the cold tea bag to the painful wisdom tooth. Be sure to not add any cream, milk, or sugar to the tea.
7. Ibuprofen
This over-the-counter pill is not only a painkiller, but it also fights inflammation. Taking the recommended dose on the package may actually be enough to reduce your pain.
8. Peppermint
Unlike some other remedies, peppermint has a fresh taste. There are 2 options for using this method. First, you could pack the affected area of your mouth with peppermint leaves for about 20 minutes. On the other hand, you could put a few drops of peppermint extract on a cotton swab and apply it to your tooth.
9. Vanilla Extract
Vanilla extract is another delicious pain reliever. It is also packed with antioxidants. Soak a cotton ball in vanilla extract and rub it on the painful area. Your pain will be relieved, and you'll have a yummy taste in your mouth.
Wisdom tooth pain is no fun, but luckily there is no shortage of method to treat this pain. To learn more ways to deal with wisdom tooth pain, contact your dentist.
About the Author
Dr. Kevin Dann earned an anesthesiology degree from University of Toronto in 1981, as well as a Specialty Certificate of Dental Anesthesia from the Royal College of Dental Surgeons of Ontario in 2008. He is a member of the Ontario Dental Association and both the Ontario and American Dental Societies of Anesthesia. To learn more about how he can help relieve your wisdom tooth pain, click here or call (647)-559-3176.