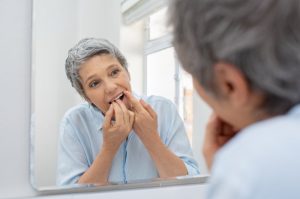 Dental implants are the closest restorative solution to your natural teeth, and it's important to care for them in a similar way. When you do, you can rest assured knowing that you'll get the most out of your new investment in your oral health. With the proper treatment, your implants can last up to three decades, providing you with sturdy and strong replacement teeth you won't regret getting. Read on for some tips on how to care for your new teeth and what happens if you don't.
Taking Care of Your Dental Implants
With the proper daily hygiene routine, your dental implants can last you decades. Because they're so similar to your natural teeth, you'll need to take care of them practically the same way. It's important to keep them free of plaque to prevent bacteria accumulation by brushing twice each day for two minutes and flossing daily. Using the proper technique is also important, so be sure to angle your brush at 45 degrees and make gentle circular motions. Some ways you can amp up your routine is to include:
An electric toothbrush.
Low-abrasive, tartar-control fluoride toothpaste.
Dental floss picks that are easy to maneuver.
Antibacterial mouthwash.
Inter-dental brush for more effective plaque removal.
Staining tablets to locate plaque on teeth.
Committing to a gentle daily routine at home, paired with regular visits with your implant dentist every six months, can help you avoid problems from developing down the road.
The Effects of Neglecting Your Dental Implants
Without the proper daily care, you may begin to notice certain symptoms occurring. When food debris and saliva mix in your mouth, they can form plaque that coats your teeth. This attracts harmful oral bacteria to accumulate, resulting in irritation, bleeding, and eventually gum disease. When the condition is spotted and treated early, the symptoms can be treated and even reversed. However, when they're left to progress, it could result in bone loss and even the removal of your implant. That's why if you want lifelong teeth, you'll need to invest a little time in lifelong care.
Scheduling Routine Visits With Your Implant Dentist
Every six months, it's vital for you to schedule a tooth cleaning and checkup with your implant dentist. They can measure your gums to make sure there's no recession, take annual X-rays to look for bone loss and looseness, and check your bite to make sure it's even. By doing this, they're able to diagnose issues early and provide treatment to prevent further damage from occurring. This is also a great time for you to let them know if you've noticed any symptoms that are out of the ordinary.
Dental implants are an investment in your oral health that you won't regret making as long as you take the proper steps to care for them. With a 95 percent success rate, this advanced restorative procedure can improve your daily quality of life. If you have any questions, don't hesitate to contact your implant dentist.
About the Author
Dr. Kevin Dann focuses on providing each of his patients with individualized and reliable dental care. He has a dental anesthesia specialty certificate along with a Certificate in Implant Dentistry from Tufts Medical Centre. He is also an active member of several professional organizations including the Ontario Dental Association and Canadian Academy of Dental Anesthesia. For questions about implant care or to schedule a consultation for dental implants, visit his website or call 647-559-3176.