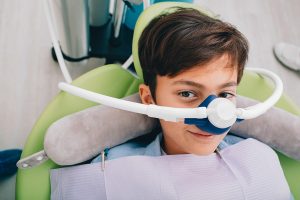 Visiting the dentist on a regular basis is a habit that all parents should instill in their children. Unfortunately, the thought of a dental appointment can leave some kids feeling anxious. If your child is apprehensive, then don't fret. With help from your sedation dentist in Toronto, there's a way for him or her to receive the vital dental care needed in a calm and care-free manner. As you continue reading, you'll learn about the available forms of sedation dentistry.
Your Child isn't Abnormal
The first thing you should know about your child's dental anxiety is that he or she is not alone. Statistics show that most Canadian children have some degree of anxiety about visiting a dentist. This can translate into them missing out on the valuable care they need and starting an unhealthy habit of avoiding the dentist that could follow them into adulthood.
To prevent this from happening, we provide sedation dentistry at Dentistry Asleep®. Thus, your child will be able to overcome any of his or her fears and build a healthy relationship with the dentist.
How Sedation Dentistry Works
The primary purpose of sedation dentistry is to provide relaxation. Because Dr. Kevin Dann is a Certified Specialist in Dental Anaesthesia, he is qualified to provide the calming care your child needs in a safe and effective manner.
Here are our Dentistry Asleep® options:
Oral Sedation – Delivered in pill form to address more acute forms of anxiety and phobia
Nitrous Oxide – The most common form of sedation dentistry, provides a mild calming effect
IV Sedation – Delivers rapid results by the sedative being injected directly into the bloodstream
General Anaesthesia/Dentistry Asleep® – A combination of medications that puts your child completely asleep (can even be used for oral hygiene visits)
Other Reasons for Dentistry Asleep®
Dental anxiety is not the only situation that Dentistry Asleep® can be helpful in. If your child needs complex or multiple procedures, it provides a way to complete the work in a comfortable manner in just one visit. That saves you time in the long run. It's also helpful in accommodating patients with allergies, asthma, diabetes or hypertension.
Is Dentistry Asleep® Safe?
At our Toronto office, you can rest assured that the sedation dentistry your child receives will be safe. That's because Dr. Dann is highly qualified to deliver care. As an additional precaution, we'll monitor your child from start to finish so that if any adjustments need to be made, we can do so swiftly and effectively.
If you're looking to boost your child's oral health in a relaxed manner, then you can count on Dentistry Asleep® to deliver just what you need!
About the Author
Dr. Kevin Dann earned his dental degree from the University of Toronto. He was later awarded a Specialty Certificate in Dental Anaesthesia from the Royal College of Surgeons of Ontario. Dr. Dann helps children enjoy healthier teeth and gums by providing compassionate and calming care at Dentistry Asleep®, and he can be reached for more information through his website.