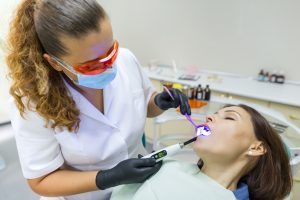 If you dread dental visits and the thought of these appointments leaves you feeling anxious or fearful, then there is a solution for your woes. With the advancements in dental medicine, you can now overcome any worries or fears in a safe and effective manner with the help of sedation dentistry in M5R. How should you expect to feel when the medication is administered, though? To get the answers from a local expert, continue reading.
What is Sedation Dentistry?
The purpose of sedation dentistry is to remove any previous emotional or physical barriers that have stopped you from receiving the vital dental care that you need. Depending on the level of your anxiety or phobia, a dentist will use the appropriate medication to leave you feeling relaxed, calm and ready to have your oral health improved. While comfortability is the ultimate goal of sedation dentistry, there are some differences in how you'll feel depending on the specific method utilized.
Nitrous Oxide
With nitrous oxide (also known as laughing gas), you can expect a light and jovial feeling. The least invasive form of sedation, it's applied via a mask that's worn while you're being treated and is utilized for mild cases of nervousness or anxiety.
One of the perks of receiving nitrous oxide is that soon after the medication is discontinued, the effects will wear off, which means you can drive your own vehicle and return to your normal responsibilities.
Oral Sedation
For more acute cases of anxiety or phobia, a dentist may recommend oral sedation. The medication, which is delivered in pill form, will usually be taken before leaving your home on the day of your appointment. You can expect to feel drowsy but relaxed.
You should keep in mind that unlike nitrous oxide, oral sedation doesn't immediately wear off after your treatment concludes. Usually, it will take hours for the effects to subside. Therefore, you'll need to have someone drive you to and from the office, and you should spend the rest of the day relaxing.
I.V. Sedation
If your dental phobia is severe, then I.V. sedation can be used to deliver rapid results. Once the effects set in, you may notice slurred speech and loss of memory. In some cases, patients forget the entire procedure ever occurred. While the medication isn't intended to render you unconscious, you can expect to feel super relaxed, as it's a deeper level of sedation than the other methods.
After the procedure concludes, you'll need a driver, and the only plans you should make for the rest of the day are to relax.
When you meet with your dentist in M5R, you can discuss any of your worries in a judgment-free manner. He or she will work with you to develop a plan of action that perfectly fits all your needs so you can receive treatment in a stress-free manner.
About the Author
Dr. Kevin Dann is a graduate of the University of Toronto. He would later go on to earn his Anaesthesiology degree from the same institution. Additionally, Dr. Dann holds a Specialty Certificate in Dental Anaesthesiology from the Royal College of Dental Surgeons of Ontario. He provides care in a calm and relaxed manner with the aid of sedation dentistry at Dentistry Asleep®, and he can be reached for more information through his website.