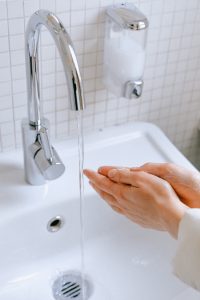 Your general and sleep dentist takes personal hygiene seriously as it's an essential aspect of patient safety. Now more than ever, clean hands are important to help combat the COVID-19 pandemic. Your dental team has revamped its safety protocols to keep their hands even cleaner than before to help stop the virus through cross-contamination. Since proper handwashing is still the single most crucial method to prevent spreading germs, here's how your dental team is keeping their hands clean to keep you safe.

3 Steps for Effective Handwashing
Simple mistakes when washing the hands can cause harmful bacteria and viruses to remain on them, allowing them to be transmitted to yourself or others. Your dentist and their staff have completed additional training in awareness and prevention, including proper handwashing and sanitizing techniques, to help prevent spreading COVID-19. Rest assured, your dental team is taking their time to thoroughly wash their hands by following 3 effective tips to keep
patients safe:
Wash for at least 20 seconds: If you hear your dental team singing "Happy Birthday," they aren't celebrating. Instead, they are ensuring they are washing their hands for at least 20 seconds using clean running water and an antibacterial soap. Washing for the correct length of time removes harmful pathogens to reduce cross-contamination.
Take their time: Dental offices can be pretty busy, but your dentist is taking the time to clean all surfaces of their hands. They are slowing down to properly clean between their fingers and underneath their nails to remove as many germs as possible.
Thoroughly drying their hands: Bacteria love damp places. To prevent bacteria and viruses from lingering on the hands, your dentist is thoroughly drying them using a clean, disposable paper towel or hand dryer.
Besides washing their hands often, your dental team has also made other changes to keep patients safe, like keeping their fingernails short to reduce places bacteria and germs can hide.
Promoting Germ-Free Hands
When your dentist can't get to the sink, they might also use an alcohol-based sanitizer to keep their hands clean. You'll also see them wearing gloves to provide a protective barrier to reduce spreading germs. The Centers for Disease Control and Prevention reports gloves can decrease hand contamination by 70-80%. They will use a new pair of gloves with each patient. They will also get new ones anytime they've been damaged or soiled.
As dental offices across the country reopen their doors, you can feel comfortable knowing the dentist is the cleanest place you'll visit all day. Your dentist is keeping their hands clean and following the latest safety protocols to help stop the spread of COVID-19.
About Dr. Kevin Dann
Dr. Kevin Dann provides advanced dental solutions using the latest innovations in dentistry. He's revamped his dental safety protocols to keep his patients and the community safe. If you need an appointment, or you have any questions about our safety standards, contact our office today to speak with a member of our team.