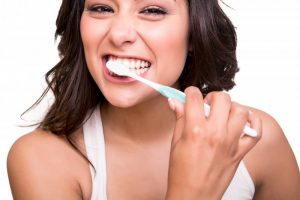 Having your smile upgraded with porcelain veneers is all the more reason to maintain excellent oral health. Because they are always present in your mouth, bacteria pose a constant threat. However, can they still damage your teeth if you've received veneers? Continue reading to get the answer and discover how maintaining your veneers can help keep your teeth and gums healthy.
A Look at How Porcelain Veneers Work
Although veneers are made from durable ceramics, they aren't indestructible. While they can successfully mask imperfections, veneers can still be damaged if there is dental negligence. It should also be noted that they can't stop cavities from forming.
How Cavities Can Form with Veneers
Whenever you eat or drink beverages (other than water), oral bacteria are attracted to any leftover debris. If allowed to linger, they can eventually form plaque. The acids released by the plaque contribute to tooth decay (cavities).
While the groove-free surface of veneers makes it harder for bacteria to accumulate, it doesn't cover the entire tooth. Thus, the microorganisms can cling to the other parts.
How Cavities Can Affect Teeth and Veneers
Untreated, a cavity only becomes worse, as it bores deeper into the tooth. If treated soon enough, a filling will usually suffice. However, if it's ignored, a more complex root canal may be required.
Because veneers rest on the teeth, if there is tooth decay, the fixtures have to be removed so the tooth can be treated. This amounts to an added and unnecessary cost and a compromised smile.
How to Protect Yourself
It's far easier to prevent cavity development than it is to receive restorative care. Follow these steps to maintain a healthy smile:
Brush Consistently – Using a toothbrush with soft bristles, clean your teeth at least two times a day to remove debris that could lead to plaque development.
Regular Flossing – Use dental floss at least once a day to remove leftover particles that gather in the tight spaces between the teeth. In addition to protecting your teeth and gums, it will help to maintain fresh breath.
Clean Your Teeth in the Right Sequence – Floss before brushing your teeth to ensure more bacteria and plaque are removed. This will also allow the fluoride in your toothpaste to provide more effective protection.
Visit Your Dentist – Maintain regular visits with your dentist for cleanings and checkups. Therefore, any budding oral health issues can be spotted and treated before they can compromise your smile.
When you take the right steps, you'll be rewarded. Not only will you be able to preserve your porcelain veneers in M5R 3K4 for up to 15 years, but you'll also have strong teeth and gums and a heap of confidence!
About the Author
Dr. Kevin Dann earned his dental degree from the University of Toronto. Throughout a career that has spanned four decades, he has never wavered in his commitment to excellence, taking several hours of continuing education. A member of the Academy of Comprehensive Esthetics, Dr. Dann creates beautiful and healthy smiles by placing porcelain veneers at Dentistry Asleep. He can be reached for more information or to schedule a visit through his website.