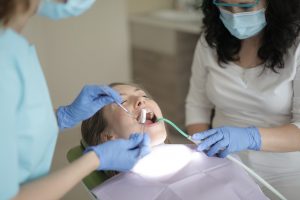 Besides the proper care at home, your child's developing smile also relies on routine services from a dentist. Unfortunately, the dental office can be a frightening place for many children. The sights, sounds, and unknown can cause their anxiety level to rise, especially if they need a procedure. You don't have to put your child through unnecessary stress or discomfort. Sedation dentistry can help them sit back and relax. If you're like many parents, you likely have one question – is sedation dentistry safe for children? Yes! Both the American Academy of Pediatrics (AAP) and the American Academy of Pediatric Dentistry (AAPD) support its use when used according to their standards. Here's what you need to know to determine if it's the right choice for your child.
Is Dental Sedation Safe for Children?
You've likely heard a few stories in the news about children having adverse reactions to dental sedation. As a result, it's normal to have a few concerns about its safety, but there isn't any reason to worry. The overall goal of sedation dentistry is to provide the most pain-free and safest treatment possible.
In 2019, the AAP and the AAPD updated their guidelines for dental professionals regarding the use of deep sedation or general anesthesia to minimize any potential complications. Although it is safe, not all children are candidates for sedation dentistry. Their dentist will learn more about your child's health to determine if it's safe for them. In addition, they will follow the appropriate guidelines, which include having at least 2 people in the room who are trained in life-support measures in case there's an issue. Your child's vitals will be closely monitored to ensure there aren't any adverse reactions.
Types of Sedation for Children
Every child's needs differ, so their dentist won't use a cookie-cutter approach. After performing a consultation, they'll recommend either:
Nitrous Oxide: Better known as laughing gas, it's commonly recommended for children because there are few risks or complications. It can be used for several situations, from regular cleanings to repairing a chipped tooth.
Mild Sedation: A prescribed medication is taken before the procedure, which can take a few hours for the effects to wear off. It's suggested for more complex treatment plans, such as root canal therapy.
IV Sedation: There are few situations where IV sedation is suitable for children, such as if oral surgery is needed.
Promote Stress-Free Appointments
As a parent, you don't want to do anything to put your child in harm's way. You can let your guard down at the dental office. They'll never do anything to jeopardize your child's safety while helping them achieve their best smile.
About Dr. Kevin Dann
Dr. Dann earned his dental degree at the University of Toronto, but he is much more than just a family dentist. He is also specialty certified in dental anesthesia. He holds many qualifications and accreditations to provide safe sedation dentistry, including certifications in Pediatric Advanced Life Support. Contact our office today to see if dental sedation is right for your child.