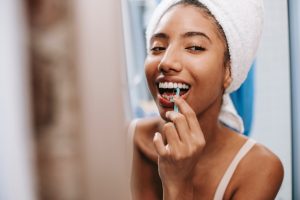 You know you're supposed to floss your teeth daily, but don't feel guilty if you don't. 20% of Americans don't floss their teeth at all, while only 40% do it daily. Although you may view it as a chore, flossing is crucial to your oral and general health. Not only can it lead to tooth loss, but there can be potentially deadly complications. Here are just a few ways flossing can save your life.
Risks of Gum Disease
Did you know tooth decay isn't the only threat to your smile? The Centers for Disease Control and Prevention reports at least 50% of adults to have gum disease. The preventable infection is caused by bacteria found in tartar buildup from poor oral hygiene habits, like not flossing.
Your toothbrush isn't enough to keep your gums healthy. If you aren't flossing daily, you are leaving up to 40% of your tooth surfaces uncleaned. Harmful bacteria will linger in your mouth that can lead to an avoidable infection. Besides being the leading cause of tooth loss, the risks of gum disease don't end with an incomplete smile.
The bacteria responsible for the infection can enter your bloodstream through the pressure of biting and chewing. As it circulates throughout your bloodstream, it wreaks havoc on your body, significantly increasing your risk of various life-threatening health conditions. Flossing is the only way to clean areas your toothbrush can't reach to safeguard your smile from gum disease.
Save Your Life with Flossing
There is a direct connection between your oral and overall health. Gum disease is especially harmful to your health. Flossing is the best way to protect your smile and quality of life against common deadly conditions, such as:
Alzheimer's Disease
Scientists at the University of Kentucky found people with few teeth recall less information than those with a complete smile, which can be attributed to Alzheimer's disease. Studies have found oral bacteria in the brains of those suffering from the disease that kills more people annually than breast and prostate cancer combined.
Cardiovascular Disease
The British Dental Health Foundation says there's growing evidence linking poor oral health to various systemic problems, including heart disease. Studies have shown people with gum disease are 2-3 times more likely to have a serious cardiovascular event, like a heart attack or stroke. With 800,000 people dying annually in the U.S. from cardiovascular disease, flossing is a simple way to protect your heart health.
The American Dental Association recommends using high-quality dental floss at least once per day. Besides caring for your smile at home, don't forget to visit your dentist every 6 months for a cleaning and checkup to keep your mouth and body healthy.
About Dr. Kevin Dann
Dr. Dann earned his dental degree at the University of Toronto before continuing his training in advanced specialties, including implant dentistry and anaesthesia. He provides comprehensive preventive services to promote healthy smiles that last for a lifetime. If you need a cleaning and checkup, or you have signs of gum disease, contact our office today for an appointment.