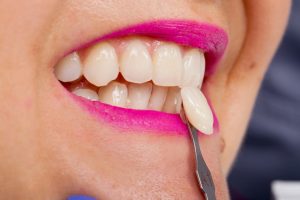 Veneers are designed to serve as a long-lasting solution to improve your smile. Although they can last for a decade or longer, they must be replaced eventually. However, when do you know when replacing veneers is necessary? Don't wait until one falls off. Here are the most obvious signs that it's time to contact your cosmetic dentist for replacements. 
Signs Veneers Need to Be Replaced
Modern veneers are thinner than ever, but they are durable to last for 10 years or longer with the right care. The unique application process creates a strong bond with your teeth, but it isn't uncommon for one to fall off over time. Besides a lost or damaged veneer, you will need replacements when:
The Veneer Darkens
A veneer is bonded to your tooth using a dental adhesive. It is normal for the bonding agent to darken over time. Unfortunately, it can be visible through the veneer. You might believe the veneer or your tooth is the source of the discoloration, but it is most likely caused by the bonding material changing color. The only way to restore your pearly whites is by removing the veneer and cement.
Stains or Discoloration
Modern veneers are made of porcelain, which is stain-resistant. However, using abrasive dental products can scratch their surfaces, making them look dull and discolored. Food particles can get trapped in the small crevasses, which can be difficult to remove. Veneer replacement is the only solution to restore a bright, white smile.
Roughness Around the Edges
Veneers are strong, but years of wear and tear can affect their edges. Chips or cracks can cause roughness around the edges, affecting their shape. Over time, the damage can become more significant, but your dentist can replace them to avoid embarrassing imperfections.
How to Protect Your Investment
You can ensure your veneers thrive for years by following a few simple tips, including:
Commit to Your Oral Hygiene: Use a soft-bristled toothbrush and nonabrasive toothpaste to clean your teeth twice daily. Use high-quality dental floss to clean between each tooth.
Break Bad Oral Habits: Don't use your teeth in place or scissors or to open bottle caps. Your dentist will also recommend you don't chew on inedible objects like your fingernails.
Watch What You Eat: It's best to avoid hard or sticky foods to prevent damaging your veneers.
Visit Your Dentist: Schedule an appointment with your dentist for a cleaning and checkup every 6 months.
Protect Your Teeth: Wear an athletic mouthguard if you play sports. If you have a habit of grinding or clenching your teeth, ask your dentist for a nightguard.
Veneers are a wise investment to enjoy the smile of your dreams for many years to come.
About Dr. Kevin Dann
Dr. Dann earned his dental degree from the University of Toronto and has completed advanced education in many specialties, including implant and cosmetic dentistry. As a member of various professional organizations, he has the qualifications you can trust. Contact our office today to request your consultation for veneer replacements.