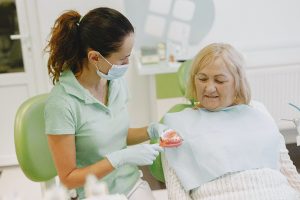 Losing your natural teeth can be devastating for your oral health and quality of life. Not to mention, your self-esteem is likely to suffer. You can enjoy a beautiful smile again with dentures. They've been used for generations to treat significant tooth loss. Advancements in dentistry allow them to look and feel more realistic than ever. However, it's a process to replace your missing teeth. The sooner you get started, the quicker you'll have a complete smile. Here's how long it will take to get your dentures. 
Process of Getting Dentures
Every mouth and situation is different, so there's not a specific time frame you can expect when getting dentures. On average, it takes 3 to 4 appointments, but various factors will affect your timeline, which may include:
Consultation
A consultation is your first step to rebuilding your smile. Your dentist will examine your mouth and learn more about your goals to create a personalized treatment plan.
Preparatory Procedures
It isn't uncommon to need a little prep work to create a healthy foundation for your new smile, like tooth extractions, periodontal therapy, or bone grafting. Each treatment will have a different recovery, which can range from a couple of weeks to several months.
Impressions
After you've healed from any previous treatments, your dentist will begin restoring your smile by taking an impression of your mouth. They'll also take measurements and discuss the details of your new teeth to create a wax mockup. This ensures your dentures will fit your mouth like a glove before the model is sent to the dental lab.
Adjustment Appointments
You may require multiple appointments to adjust the mockup to ensure the ideal fit and functions. Changes can also be necessary to accommodate your facial features for the most aesthetically pleasing results.
Placing Your Dentures
After any adjustments have been finalized, you'll return for your final dentures. It may take a few days to get used to wearing them, but you won't even notice them in your mouth in no time at all.
Although this is generally what's expected when getting dentures, the time frame can differ for patients choosing immediate dentures, which can streamline the process. If you choose dental implants to stabilize your smile, it can take a little longer to replace your lost teeth; however, you'll benefit from unmatched support and stability.
Start Your Journey Today
Don't put dentures off any longer. Your dentist knows you can't go without any teeth. They'll use the latest innovations in dentistry to save time without risking quality. After just a few appointments, you'll have a confident, attractive smile to be proud of.
About Dr. Kevin Dann
Dr. Dann achieved his dental degree from the University of Toronto and has completed extensive continuing education in many specialties, including implant dentistry. He has the experience and qualifications to treat the most complex cases of tooth loss. If you're ready to fill the gaps in your smile, contact our office today to schedule your consultation.