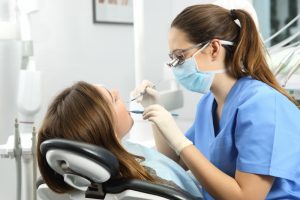 Many people don't like going to the dentist. Whether it's fear of discomfort or the anxiety of wondering if you have a cavity, it can be a nerve-wracking experience. However, there is someone always consistently there making the dental experience more comfortable and effective: your dental hygienist! Since it's Dental Hygienist Appreciation Week from April 9th to the 15th, there's no better time to show appreciation to them. Here are four reasons why your dental hygienist is so important!
#1: They Are Always a Familiar Face
You can always count on your dental hygienist to bring a friendly and familiar face to your appointment! If you suffer from dental anxiety, they can help bring a sense of calm and relaxation during your visit. By keeping you informed of the process throughout your checkup or procedure, they help to ease any social discomfort. As you build a trusting relationship with them, going to the dentist will become easier and easier!
#2: They Care About What They Do
A dental hygienist's tasks require them to be very meticulous and organized. They ensure everything during your visit is taken care of and every step of your treatment goes smoothly. No matter what your needs are throughout your appointment, your dental hygienist is available to assist your dentist to care for them. They are diligently working behind and in front of the scene to help you achieve your best smile yet!
#3: They Are Your First Line of Defense
One of your greatest allies in maintaining healthy pearly whites and gums is your dental hygienist. They help you keep them in top condition with cleanings and fluoride treatments. Additionally, as they are tending to your oral health, they are sometimes the first to notice any existing issues in the hard-to-reach areas of your mouth. They make it their priority to inform your dentist of anything they've noticed so you can receive treatment.
#4: They Are Constantly Learning
Though your dental hygienists complete rigorous training through their certification program, they always continue to learn and grow in their field. Generally, they will achieve more than 20 hours of continuing education courses every year. This ensures they stay up-to-date with the latest procedures and techniques and constantly improve their dentistry skills.
With their expertise and dedication to caring for your smile, your dental hygienist makes your visits more successful and enjoyable. So, bring a smile to their face this week by showing them how much you appreciate them during Dental Hygienist Appreciation Week!
About the Author
Dr. Kevin Dann and his team at Dentistry Asleep are eager to help you keep your oral health and overall well-being in top condition! He earned his Doctor of Dental Surgery from the University of Toronto and is an active member of multiple dental associations. By using advanced dental technology and customized plans, he offers a full range of services, including preventive, cosmetic, and restorative care. To schedule an appointment, contact him through his website or call +1 647-559-3176.