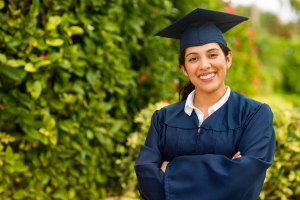 If someone in your life is getting ready to graduate from school or wrap up any other type of degree or certification, you're probably feeling pretty excited for them! After all, entering the professional world is a big milestone. That said, you might also be wondering if there's anything you can gift them that'll provide them with an advantage as they kick off their career—and there is! Here's more from your trusted cosmetic dentist about some of the various procedures that make the perfect gift for graduating students, along with some job options worth considering that directly benefit from having a bright smile.
Cosmetic Treatments That Are Perfect for Graduating Students
To put it simply, your smile is the biggest asset at your disposal for making positive, lasting first impressions. It's the first feature that strangers notice when they meet you, and it speaks volumes about you! It relays confidence, it makes you seem more friendly and approachable, and it also says a lot about your personal hygiene! Needless to say, these are all positive traits that any graduating student should want to carry into the workforce—which is where cosmetic dentistry comes in handy. Here are three popular cosmetic treatments that can guarantee life-changing results for the graduating student in your life:
Teeth Whitening
Professional teeth whitening is capable of whitening teeth by several shades! Just be sure that you're undergoing treatment in advance of the graduation ceremony. Your dentist can send you home with a kit containing everything necessary to whiten your teeth in advance of the big day.
Cosmetic Bonding
This treatment is perfect for addressing minor aesthetic issues like chips and cracks, as well as staining. A composite resin is expertly molded over compromised teeth. This treatment is also notably quick and accessible!
Veneers
These are one of the most versatile treatment options around, capable of addressing a wide range of issues including chips, cracks, gaps between teeth, staining, and more. Since a small amount of enamel needs to be removed from teeth being treated, it's important to note that teeth receiving veneers always need to be outfitted with them moving forward.
Professions That Benefit from Having an Attractive Smile
Here are several examples of some jobs that undoubtedly benefit from having a healthy and bright set of pearly whites:
Teachers, professors, and other instructors
Lawyers and others in the legal field
Businesspeople and salespeople
Content creators and social media influencers
News anchors, meteorologists, and talk-show hosts
Television and film stars
Restaurant and hospitality staff
Beauticians and salon owners
Repairmen and contractors
Possessing a beautiful smile will allow you to communicate several positive traits that people find desirable, including confidence, cleanliness, and kindliness. These traits will directly translate into professional success, which is why cosmetic dentistry is one of the best edges you can give to the grad in your life!
About the Author
Dr. Kevin Dann received his dental doctorate from the University of Toronto and has proudly served patients and families in the Toronto area for several years. His practice is excited to offer a wide range of cosmetic dental services that are perfect for graduating students, including options like teeth whitening, veneers, and cosmetic bonding! If you or someone in your life is gearing up to graduate, don't hesitate to contact the practice today for additional information or to schedule a visit. Telephone: +1 647-559-3176.