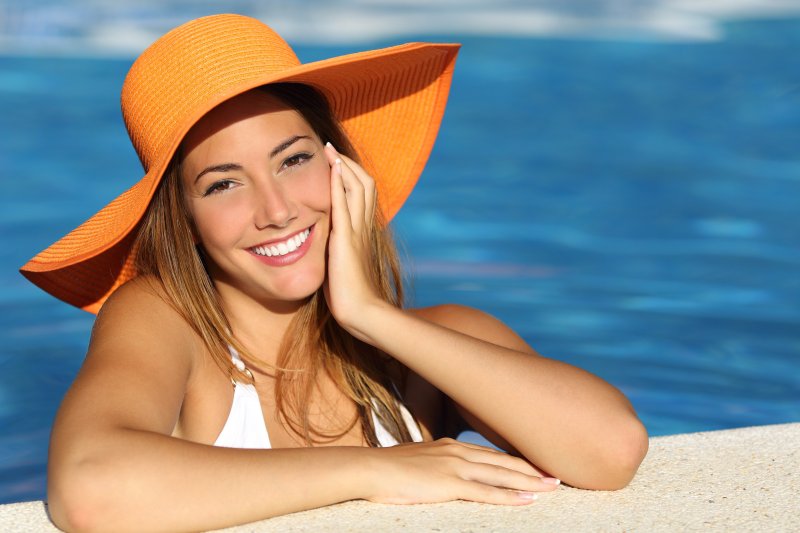 Summer is beach body season, and if you're like most people, you're probably doing what you can to look as good as possible wearing a swimsuit. But have you considered getting a beach-ready smile too?
There's no better way to make a good impression on people than to show them a smile worth being proud of. If you have aesthetic imperfections that you'd like to have addressed, cosmetic dentistry can help you. Here are a few kinds of procedures that you may be interested in.
Teeth Whitening
One of the first things people notice about your smile is its color, and if you're like many people, you aren't necessarily happy about yours. Thankfully, professional teeth whitening kits can completely revitalize your pearly whites.
Your dentist can give you a whitening kit that you can take home with you. By using the included bleaching solution and the customized plastic trays for a few hours a day, you should have a smile up to eight shades whiter within just a few weeks.
Cosmetic Bonding
If you have chips in your teeth, it can be a serious blow to your confidence. Even the smallest cracks or flaws can come to define your smile, especially if they're on your front teeth. It could make you happy to hear that these kinds of minor imperfections can be patched up in as little as a single dentist's appointment.
Cosmetic bonding involves your dentist layering a composite resin onto your teeth, then using a specialized light to cure it into place. It sounds simple, but this process can undo years worth of damage remarkably quickly.
Veneers
If you want to really impress people, veneers can give you a perfect smile that seems like it might have just come off of the red carpet. Your dentist can layer thin porcelain shells onto the teeth, changing the apparent size, color, shape, and even alignment of your teeth.
If you want to really impress this summer, a trip to the dentist can absolutely do that for you. You'll be able to pair your beach body with a smile that will impress everyone.
About Our Practice
Welcome to Dentistry Asleep, the practice of Dr. Kevin Dann. We offer a wide range of services for patients of all ages, meaning that we can give you the smile you've always wanted. Dr. Dann is also one of the few Certified Specialists in Dental Anesthesia, meaning that patients who suffer from dental anxiety will have one less thing standing between them and truly excellent dental care.
If you have any questions about cosmetic dentistry, we can be reached at our website or by phone at 647-559-3176.