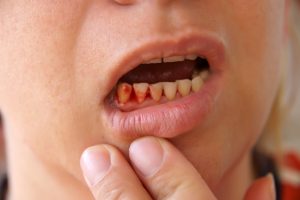 There are a lot of people that live in this country. We're all spread from sea to shining sea. If we told you that roughly three out of four Americans have some form of gum disease, would you believe us? It's a pretty crazy number, but unfortunately, is very much correct. That's a lot of people. Too many if you ask us. Gum disease can pop up at any time and in many different sizes and shapes. Receiving treatment for gum disease is vital for not only your oral health, but your entire well-being. Untreated bacteria can manifest into something much more problematic, like an infection. If you're mouth becomes infected, then we really have a problem on our hands. Knowing what to keep an eye out for and how to properly treat it is what we want to educate you on.
Having gum disease isn't an end-of-the-road ordeal – it can be treated. We want all of our Toronto, ON area patients to know that they have a friend in us whenever gum disease or any other dental problem arises. Dr. Kevin Dann and his staff of dental pros want your overall health in great shape. Keep a close eye on your mouth.
Gum Disease and How To Treat It Effectively
Much like any other infection in your body, your health lies hanging in the balance. Any infection, anywhere, should be treated immediately. Gum disease is no different. It usually makes its presence known (and felt) through one of the following ways:
• Prolonged bad breath
• Tender, swollen gums
• Pain while chewing or biting down
• Teeth that have become loose
• Tooth sensitivity
• Retreating gums
You may not develop any symptoms at all. Gum disease is very sneaky, which is why treatment should be administered as soon as possible.
How Did It Come To This?
Gum disease didn't just appear out of thin air. There are several factors as to why you are experiencing a gum disease problem:
• You're a smoker
• You're experiencing intense hormonal changes (women)
• You're diabetic
• You're on several medications
• You're suffering from other illnesses (AIDS)
Gum disease may get you down, but you certainly won't be out. You have a caring dental team on your side here at Dentistry Asleep. Gum disease is serious, and receiving proper treatment is crucial.
Schedule An Appointment For Gum Disease Therapy, Toronto
We have the tools and team to ensure your oral health is in great shape. Gum disease can be treated with the latest procedures. Don't let your mouth suffer any more than it already has. Bring serenity back to your oral health. We serve everyone in the Toronot, ON area, including Vaughan, Richmond Hill, Oakville, Mississauga, Brampton and Milton. We have the gum disease treatment Toronto requires.