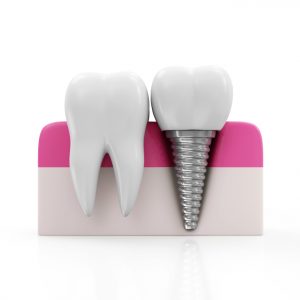 Everyone deserves to smile confidently, but if you're missing one or more teeth, chances are you're not. Click to learn about your options with dental implants.

Choose Dental Implants for Tooth Replacement in Toronto
There are a lot of causes of missing teeth — accidents, poor health and genes can all play a role. Whether the gaps in your smile happened suddenly, as the result of a car wreck, for instance, or over a longer period of time, the result is the same — a flawed smile that you want to repair. There's good news: dental implants aren't the painful, expensive procedure that they used to be. Today's dental implants are a relatively fast, affordable and long-lasting solution to getting your smile back to looking great again.
How Dental Implants Work
Dental implants are made out of titanium, which is a stable, light-weight material perfect for replacing your tooth root. The implants are tiny posts, placed into your jawbone by an oral surgeon trusted by Dr. Dann. After the surgery, your mouth will be allowed some time to recover (usually from three to six months) during which the jawbone will grow around the implant, ossifying to create a stable base — much like your original tooth root. Once the implant is ready, your replacement teeth will be bonded on top. Replacement structures are usually crowns, bridges or dentures.
Once your replacement teeth are securely on and the process is complete, your smile is back to beautiful. With dental implants, you can eat, speak and clean your teeth just the way you always have — meaning there's no necessary lifestyle adjustment.
Dental Implants: An Excellent Investment
You have several options when it comes to replacing your teeth, but none are as comprehensive as dental implants, which replace both your tooth and the root. That's important because our bones need stimulation in order to stay healthy — and the roots of our teeth provide that stimulation. Without replacing the root, you're in danger of further bone loss, which means you'll likely have more missing teeth down the line. Dental implants prevent that — and if cared for properly, they can last a lifetime. So while they may seem like an expensive option at first, dental implants truly are an excellent investment.
Dental Implants: Right for Me?
You know that dental implants are a fantastic option for many people with one or more missing teeth, like you. But does that mean they're a good solution for your unique mouth? Two conditions are necessary for successful dental implant treatment: adequate jawbone structure and good overall oral health. In an initial visit, we'll check to make sure you have enough existing jawbone to support the implants, and check for signs of gum disease or other oral problems that could inhibit the success of dental implants. If your dentist decides you're a good candidate for dental implants, we'll begin discussing your treatment plan in the very same visit.
Visit Your Toronto Dentist Today
The truth is that if you're missing one or more teeth and want to get your beautiful smile back, you're likely an excellent candidate for dental implants. But the only way to know for sure is to schedule an appointment with Dr. Dann today — dental implants could be your solution to smiling confidently again.