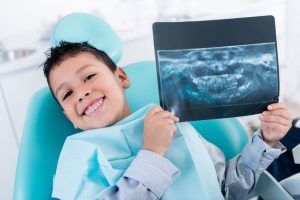 It's time for your little one's first dental visit. Who should you trust with care of their teeth and gums? Dr. Kevin Dann of Dentistry Asleep takes particular interest in kids' oral health, helping families achieve bright smiles that last a lifetime.
What's Important in Children's Dental Care?
Your family dentist in Toronto would say prevention and good oral hygiene at home are important to the health, appearance and longevity of young smiles. So, parents, be sure to model daily brushing and flossing every day, and take your role as your child's first and most important teacher seriously. Teach kids how to brush and floss, and here are some simple guidelines:
Mom or dad should brush and floss kids' teeth for them from babyhood through the preschool years. Fluoride toothpaste is fine, but use a small smear for babies and toddlers and a pea-sized amount for preschoolers.
Using a soft brush, position the bristles at a 45-degree angle to teeth and gums. Start at the front of the mouth, and use short back and forth strokes to gently scrub all dental surfaces. Progress to the chewing areas of the teeth and the back sides, too.
Brushing should take older children (and adults) a full two minutes. While school-age kids who can grasp a pencil properly have the dexterity to brush and floss, they may not have the discipline. So, parents, supervise your kids through ages 10 or 11, and inspect teeth and gums to ensure they are doing a good job.
Besides Brushing and Flossing
At-home hygiene is important, but it's not everything. So, moms and dads should bring their kids to see Dr. Dann when that first tooth erupts. This is an easy, get acquainted visit to get a child used to the sights and sounds of the dental office. Again, parents model all-important attitudes toward dental care when they themselves are relaxed at that first dental visit.
As children get older, Dr. Dann adds complete oral exams to count teeth, check for decay and gum disease, take X-rays and see how teeth, bone structure and bite are developing. He also discusses with parents the effects of thumb-sucking and pacifiers which, according to the American Dental Association, often lead to problems in the growth of the oral cavity, roof of the mouth and position of erupting teeth. Pediatric dental visits include hygienic cleanings to gently remove plaque and tartar, assess gum health and teach basics of good nutrition and oral hygiene.
The Anxious Child
As a certified specialist in dental anesthesia, Dr. Dann offers sedation options for the very anxious child or for children needing complex or multiple procedures. Special needs children often benefit from dental sedation as well. Dentistry Asleep treatment is very safe and fully monitored by Dr. Dann and his highly trained staff. It can mean fewer visits to the dental office.
Don't Trust Your Kids to Just Any Dentist
Contact Dentistry Asleep today to arrange an appointment with Dr. Dann. The dentist and caring team will treat your youngsters just like their own and partner with you in achieving their very best smiles.