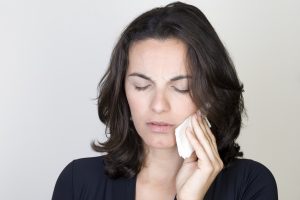 Emergencies of all kinds can be painful and stressful, but when you have a plan of action before an emergency occurs, the situation may feel a little less frightening. That includes preparing for dentistry emergencies. An emergency dentist will usually offer same day appointments, and even if they are unable to see you on the same day, they will walk you through how to care for your smile at home. Broken teeth are some of the most often treated injuries by an emergency dentist. Repairing these teeth, relieving pain, and protecting your smile during these situations is possible with help from a restorative dentist. That means you can take a deep breath and rely on an emergency dentist to renew your smile if you break a tooth.

Caring for Your Smile During an Emergency
If you have a broken tooth, an emergency dentist can help, but there are also some steps you can take at home to protect your smile until you reach the office. First, collect any larger pieces of the tooth that have been knocked out. Handle these tooth sections by the crown (part of the tooth visible above the gum line) as the sensitive root structure is easily damaged. Place this piece of tooth in a container of milk or water to bring to the dentist with you. These pieces can often be used to aid in the restoration plan. Swish cold water to remove any foreign debris from the mouth, but do not brush, floss, or use mouthwash unless a dentist specifically directs you to do so. Next, bite down on clean cloth or gauze to stop the flow of blood. If this pressure does not stop bleeding, use an ice pack or cold compress. Cold is a very useful first aid tool to slow blood flow, relieve pain, and prevent swelling and inflammation.
Preventing Dental Emergencies
As is true in most oral and overall health matters, preventing dental emergencies is essential. Some easy ways to avoid broken teeth and other urgent dental health concerns include:
Do not use teeth as tools to open packages or crack nuts
Avoid chewing ice, pen caps, or nails
Brush and floss daily and visit the dentist twice a year
Wear protective mouthguards if you suffer from teeth grinding and during sports events
Call Your Trusted Emergency Dentist – Dr. Kevin Dann
At Dentistry Asleep, Dr. Kevin Dann and his Toronto dental team are dedicated to helping patients learn to love visiting the dentist. As a certified dental anesthesia specialist, Dr. Dann knows a thing or two about keeping dental patients comfortable – that includes providing emergency dental care. Contact the emergency dentist and team right away if you have a broken tooth, knocked out teeth, soft tissue lacerations, or other oral health concerns that require urgent dental care. We'll help you put the smile back on your face quickly and comfortably. Please read our dentistry blog regularly to learn more about the dentistry services we offer in our Toronto dental office.