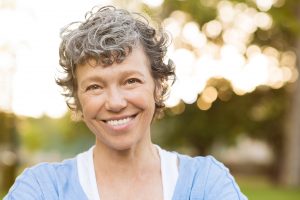 Start by answering the following questions:
Am I missing one or more teeth?
Am I healthy enough for basic medical procedures?
Have I struggled with gum disease?
Have I experienced an adverse reaction to anesthesia or surgery in the past?
If you said yes to the first two questions and no to the second two, you may be a good candidate for dental implants. The answers to these questions and others will help our team determine whether or not dental implant supported tooth replacement is the safest and most effective solution for you. Our goal at Dentistry Asleep is always to ensure our patients experience completely safe, pain and stress free dental care, and that includes making sure patients are good candidates for dental implants before recommending this advanced treatment solution.

When to Consider Dental Implants
Any patient missing a single tooth or a full row of teeth should consider replacing their missing teeth with dental implant supported replacement options. Dental implants are the only solution available that replaces the entire tooth, both roots and crowns, so we consider this option the highest standard of care for our patients. Our best dental implant candidates exhibit the following qualities:
Missing one or more teeth
Healthy enough for basic medical care
Have not had adverse health reactions to surgical procedures or anesthesia in the past
Have adequate jawbone density and gum tissue volume to support a dental implant
Are willing to invest time in the months long treatment process
Benefits of Dental Implant Tooth Replacement
Dental implant supported tooth replacement offers patients numerous benefits when compared to traditional tooth replacement solutions that restored only those parts of teeth visible above the gum line. Some of the many benefits include:
Long lasting – compared with traditional tooth replacement options that need to repaired or replaced every few years, dental implant supported tooth replacement prosthetics last for decades.
Stability – especially for patients who need partial or full dentures, dental implants significantly improve the stability of the tooth replacement, eliminating slipping, gapping, and other concerns.
Natural form and function – the dental implants closely mimic the lost root structure of teeth, and they support replacement teeth that can be crafted from the most natural looking, longest lasting materials. That means dental implant supported replacement teeth look and feel more like your natural dental structure.
Improve oral health – because both the roots and crowns of teeth are replaced, the jawbone and gum tissue is stimulated, so patients maintain better overall oral health and are at a decreased risk for further complications.
Schedule Your Consultation for Dental Implants M5R, 3K4
If you want to find out more about dental implants, the first step should be scheduling a consultation with your trusted dentist for M5R, 3K4 patients. Dr. Dann and the Dentistry Asleep team are experts in advanced dental procedures, safe and effective dental anesthesia, and personalized patient care. Call us today to find out more or schedule an appointment with our caring team.